Energy policy in the United States has been in a significant shift for many years now. States, municipalities, and public utilities have made long-term commitments to considerable increases in the utilization of renewable energy. This has made way for the transition from large, centralized, and utility-owned powerplants toward smaller, distributed, privately-owned renewable energy facilities. The result has been a new wave of social-impact focused entrepreneurship in energy.
As we saw this shift developing nearly four years ago, there was a natural alignment with AVANA's commitment to entrepreneurship and investing in the social good. We made a large, long-term investment in the development of a renewable energy financing practice, and our renewable energy project finance business continues to grow year-over-year.
We've financed a variety of renewable energy technologies, including battery storage and biogas, but the cornerstone of our practice has been in so-called distributed generation solar farms. For many decades power generation in the United States has been centralized. A large power plant, often fueled by coal or fossil fuels, provides power to an enormous geography of power users across a vast network of infrastructure. The effectiveness, portability, and scalability of renewable energy has given way to the new model whereby the generation of power is spread out across communities, or "distributed".
Centralized power generation can create inefficiencies in the distribution of power across large distances, concentrate vulnerabilities to natural disasters, cyber-attacks, and other disruptions, and result in significant cost burdens including the investment required to upgrade high voltage lines and service transfer stations. Through distributed generation, instead of relying on a single power plant to transmit and supply power from afar to a large footprint, this model enables multiple small renewable power-producing technologies to function locally, providing power reliably and with a lower risk of disruption.  
In addition to efficiency and reliability advantages, distributed energy technologies also significantly reduce pollution and improve environmental quality. The centralized power plants these distributed generation projects are replacing are typically burning coal or some other fossil fuels. Replacing these fossil fuel burning projects with zero-emission renewable power results in cleaner air and a reduction in greenhouse gases.
Since we began our renewable energy practice, we've financed clean energy projects valued at over $500 million. These projects will generate 6.4 billion KWh of electricity, enough to power 500,000 homes for a year. This is the equivalent of 500 million gallons of gasoline, 10 million barrels of oil, or one million passenger miles driven in a year.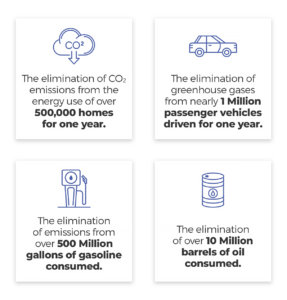 We are proud of the measurable positive impact we've had on the environment while financing projects in the renewable energy sector. The renewable energy industry is poised for long-term continued growth, and we expect supporting the development of these projects to be a core component of our business for many years. Please don't hesitate to contact us with any questions you may have about this product.
Sincerely,
Sundip Patel
CEO and Co-CIO

Michael Sheneman
CFO and Co-CIO