We invest in commercial debt in niche markets
AVANA Fund's investment strategy focuses on commercial debt investments in niche markets underserved by traditional lenders.
Over the last two decades we have developed deep expertise in analyzing, underwriting, and structuring debt transactions. We have also developed a proprietary network of clients and referral partners which allows us to secure consistent nationwide deal flow.
We originate geographically-diverse debt investments secured by quality commercial real estate and renewable energy projects throughout the United States.
Since inception, our customized loan by loan approach has resulted in many repeat customers, leading to more than $1.7 Billion in investments across diversified loan products and locations throughout the United States.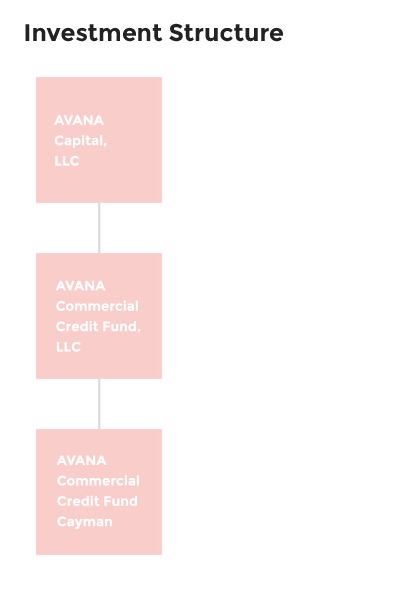 Our Financing Parameters
Eligible Locations

Nationwide

Eligible Properties

Hospitality, Senior Housing, Self-Storage, Clean Energy, as well as Owner-Occupied Office, retail, Industrial, multifamily and Warehouse

Transaction Size

$5,000,000 to $25,000,000

Loan Programs

Construction, Bridge, Acquisition, Refinance, Clean Energy, Modular Construction, C-PACE

LTC/LTV

Conventional/Construction: 70%, SBA 504: Up to 90%, Bridge, Acquisition, and Refinance: Up to 75%

Security

1st Lien Deed of Trust

Rates

Prime + (150 bps to 400 bps)

Repayment

I/O or Monthly P&I, depending on program

Origination Fees

Conventional and SBA: 1.5% - 2.5%

Due Diligence Deposit

Upon acceptance of term sheet, borrower to remit a deposit for all third-party reports, legal, and documentation expenses (these can vary depending on the loan request)

Exit Fees

TBD - Typically varies by term

Loan Term(s)

12 - 36 months

Recourse

Recourse required unless mitigated by low leverage, subject to credit approval

Closing Time

30 - 60 days
Show all parameters